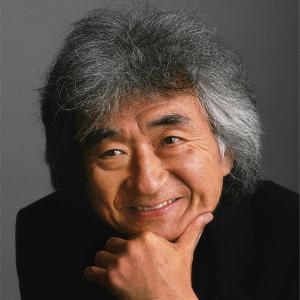 Seiji Ozawa
2013 Sakura Award Honouree
Seiji Ozawa is the iconic Japanese conductor who achieved international acclaim in his long and distinguished career leading the top orchestras and opera companies in North America and Europe.

Mr. Ozawa graduated with first prizes in composition and conducting from Tokyo's Toho School of Music. In 1959, he won a prestigious international conducting prize in France and went on to train with top conductors Herbert von Karajan in Berlin and Leonard Bernstein in New York.

Mr. Ozawa's first professional concert appearance in North America was with the San Francisco Symphony. He was Music Director of the Toronto Symphony Orchestra (1965-1969), before moving to the same position at the San Francisco Orchestra (1970-1976). Mr. Ozawa first conducted the Boston Symphony at Tanglewood Music Festival (1964). He was named Artistic Director of Tanglewood in 1973, the same year he began his tenure as Music Director at the Boston Symphony Orchestra, directing the ensemble for an unprecedented 29 years. Ozawa left Boston to become Music Director of the Vienna State Opera for eight years (2002-2010).

Worldwide touring, award-winning recordings, Emmy-winning television productions and commissioned works have underscored Mr. Ozawa's shining legacy. In 1992, he fulfilled a long-held dream by establishing Japan's first international music festival, the Saito Kinen Festival Matsumoto, which has gained a prominent position in the international music community. Mr. Ozawa also supports the training of young musicians through the "Seiji Ozawa Ongaku-juku Opera Project" and the "Seiji Ozawa International Music Academy Switzerland."

In 1994, Ozawa received Japan's Inouye Award, named after Japan's pre-eminent novelist, recognizing lifetime achievement in the arts; and in 2008, the Japanese Government honuored him with the Order of Culture. In the US, he has been honoured as Musician of the Year by Musical America and awarded honourary degrees from Harvard University, the University of Massachusetts, Wheaton College, and the New England Conservatory of Music.

Mr. Ozawa holds a special place in the hearts and imaginations of the Japanese Canadian community in Toronto. In the mid-1960s the Nikkei community had just opened the Japanese Canadian Cultural Centre in Toronto. It was an important symbol of reemergence following the internment and resettlement. The Centre's mandate was to introduce Japanese and Japanese Canadian culture to the broader community. At the same time, this young vibrant Japanese conductor was Music Director of the city's most important musical organization. Mr. Ozawa's achievements reflected the growing visibility and confidence of the Japanese in Canada and he was a great source of pride among the Japanese Canadian population of Toronto.