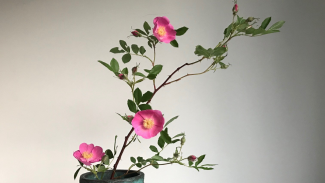 Flower Arrangement
Ikebana is the art of arranging flowers or plants to reflect their natural beauty.
Fall 2023 registration was closed.
If you are interested in joining the next sessions, you can sign up for our notification list.
---
Sogetsu
The Sogetsu School of Ikebana believes anyone can arrange Ikebana anywhere with a multitude of materials. Sogetsu encourages students to be individual and imaginative. There are no limitations to the variety of materials used depending on various levels prescribed in the Sogetsu Text Book used worldwide.
Instructors
Naomi Abe - Director, Sogetsu Ikebana Toronto East Branch
Ayako Sugino