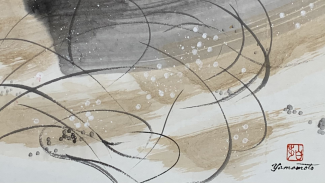 Brush Painting
Sumi-e is a traditional brush painting technique, which is based on using brush and black ink or subtle watercolours on rice paper. This course is open to students of all levels, from beginner to advanced.
Creative Sumi-e Course (Wednesday mornings only)
This course is open for students who have 3 years or more experience in Sumi-e. During this course, students will develop their styles and create artworks of their own and also study Sumi-e techniques of specific historical Japanese artists.
Instructors
Hiroshi Yamamoto (Hakuho) - Studied Japanese Traditional Art and Art History at the Kyoto Industrial Design Institute Japan and the Kyoto Japanese Art School. Hiroshi has held more than 30 exhibitions in Canada, US as well as in Japan. Hiroshi is a member of Sumi-e Artist of Canada and Yugen Artists Group. He has taught Sumi-e for more than 14 years.
Neli Iordanova - Studied Sumi-e for over 10 years, most recently under Hiroshi Yamamoto. Neli is a member of Sumi-e Artists of Canada, Yugen Artists Group and regularly exhibits her paintings in Toronto and had a show in Japan in 2018.