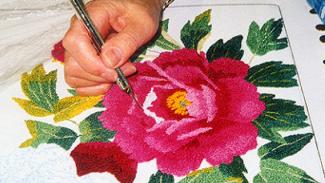 Bunka Shishu, Japanese "Needle Punch" embroidery, uses rayon lily thread combined with specific stitching techniques to create lovely pieces of art. Students begin by stitching a small pictorial sampler and progress to kits depicting traditional Japanese scenes, flowers, animals, or people.
Classes are open to others who wish to complete their stitchery.
For those who are interested in joining the next sessions, you can sign up for the notification list. 
Instructors
Poncey Acromond and Sono Sugie