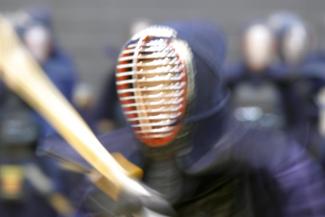 "The Way of the Sword," Kendo, is the Japanese art of fencing based on the techniques of the two-handed sword of the samurai. The term "Kendo" implies spiritual discipline, as well as fencing technique. Wearing protective equipment and using bamboo training swords, students practice a variety of movements of attack and defence. Most fundamental are stance, footwork, cuts, thrusts and parries. Several members have been selected to represent Canada in international competitions including the World Kendo Championship held every 3 years. Instructors of the classes are held in high esteem, both nationally and internationally.
The JCCC Kendo Club is proud to have Morito Tsumura, Hanshi 8th Dan (Shihan); Bryan Asa, Renshi 7th Dan (Chief Instructor); Roy Asa, Kyoshi 7th Dan; Goyo Ohmi, 6th Dan; Akihiko Hamaba, 6th Dan; Shane Asa, 6th Dan; Ryo Tamaru, 6th Dan; Steve Nakatsu, 5th Dan; Elliott Altilia, 5th Dan as Sensei. Andrew Asa, 4th Dan, Heron Lau, 4th Dan, and Dennis Daley, 3rd Dan are assistant instructors. These sensei exemplify the spirit of kendo and have experience in Japan and throughout the world.
For more information about the club, please check their website: www.jccckendo.ca.
To register, please see here.