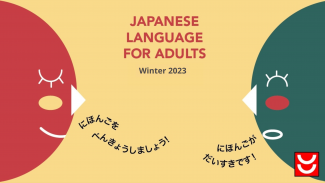 Japanese Language Program for Adults
Students learn the language of modern Japan. Structured classes, in an informal setting, provide the opportunity for active participation and practice.
The registration for Spring 2023 begins on April 1, 2023.
For those who are interested in joining the next sessions, you can sign up for our notification list.
Levels
BEGINNER I provides learners with the basic functional conversation strategies and essential vocabulary. The Hiragana writing system will be introduced. This class is for students who are studying Japanese for the first time.
BEGINNER II builds on the foundation established in Beginner I. The focus remains on practical communication in every day life, as well as a study of basic grammar and Hiragana. The Katakana system will be introduced.
BEGINNER III focuses on practical communication such as asking permission, refusal and expressing preferences. Students are required to finish Beginner II or have basic knowledge of Hiragana and Katakana writing systems. Study will focus on exercising Hiragana and Katakana.
INTERMEDIATE I balances the need to actively communicate with a further deepening of the learner's mastery of reading, writing and grammar. Students need the knowledge of Hiragana and Katakana. Some Kanji will be introduced.
INTERMEDIATE II is a continuation of Intermediate I focusing on developing more fluency in everyday communications.
INTERMEDIATE III is a continuation of Intermediate II focusing on developing more fluency in everyday communications.
CONVERSATIONAL JAPANESE is a class that maintains and improves your knowledge through a variety of oral communication skills. Everyone is welcome if you have completed the Intermediate III or equivalent level.
*If you learned Japanese language before regardless by yourself or in classes, and you are not sure which level you start, please submit the student background sheet to yokot@jccc.on.ca before registration.
Textbooks
Beginner I, II & III- Japanese for Busy People Vol. 1 (Japanese Kana Version, 4th Edition) 
Intermediate I, II, III - Japanese for Busy People Vol. 2 (Revised 3rd Edition)
Conversational Japanese - no textbook required
Textbooks can be purchased at the JCCC Gift shop for $55 (Members can receive 10% discount)
Instructors
Akiko Maruoka (Coordinator), Taiko Feldkamp, Noriko Furuya, Natsuko Mayers, Namiki Mochizuki, Osamu Shinya, Bardy Takabe.
FAQ
Q. How many students are there in a class?
A. 20 students maximum in-person class and 15 online.
Q. Where do I get the textbook?
A. The textbook can be purchased from the JCCC Reception at the time of registration or before the first class. You can also purchase the textbooks at Amazon.ca and Bluetree Books (bluetreebooks.com).
Q. I am not sure whether I registered for the appropriate level. Can I change classes after the session has started?
A. The instructor will evaluate you during the first two weeks and adjust your level if necessary.
Q. How do I know which room to go to on the first day?
A. There will be an information board set up by the entrance.
Q. I am not able to attend the first class. Can I join starting from the second class?
A. Yes, you can join starting from the second class. We will inform the instructor. You will still be charged the full rate.
Q. Do I receive a certification after completing the course?
A. Students who complete Beginner III or Intermediate III will receive a certificate.
Q. I registered online. It said 'Will Call' in the confirmation. I have not heard from you yet.
A. Our team will email you the information in advance about 3 - 5 days before the class starts.