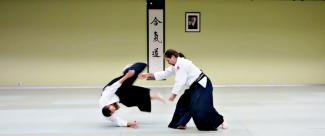 Aikido's founder (or Kaiso), Morihei Ueshiba (1883-1969), "the great master", was a Japanese soldier and philosopher. He founded The Art of Peace or, "way of harmonizing energy" after many years of studying traditional Japanese martial arts including Kendo and Jujitsu. Kaiso developed the circular, flowing movements of Aikido to blend the energy of the attack and redirect these forces harmlessly. Practitioners train to develop their Ki or inner energy as well as their body through vigorous activity.
The JCCC Aikikai first opened in 1969 and is a member of the Aikikai Hombu Dojo, Japan (the world headquarters of the International Aikido Foundation), the Canadian Aikido Federation, and the Ontario Aikido Federation. The dojo has been developed by its honorary chief instructor, Osamu Obata Shihan, 7th Dan, until his retirement in 2018. Obata Shihan began teaching at the JCCC in 1972, after learning Aikido in Japan. Obata Shihan's teaching emphasized circular movements which blend the power of the attacker with the power of the defender. The philosophy of Aikido is revealed in the Japanese proverb: one does not have to fight in order to win. The dojo operates with the principle of "Jita Ittai, helping each other learn".
Aikido offers both physical training and discipline. The JCCC Aikikai offers both regular classes and specialized weapons training using the traditional bokken or wooden sword, jo or staff, and tanto or short sword/knife. Aikido is a non-competitive, defensive martial art open to both genders and all ages and abilities.
The instructors are: Paul Sunn, 6th Dan; Masaru Matsubara, 4th Dan; Adrian Iliescu, 4th Dan (Chief Instructor); Masoud Arbani, 4th Dan; Camber Muir, 4th Dan; Collin Brown, 4th Dan; Paul Hui, 3rd Dan.
For more information and a beginner's guide, please visit www.jcccaikikai.ca.
AIKIDO - JCCCAIKIKAI
AIKIDO Harmony, Energy, Way Aikido is an art of self-defense which emphasizes good body movement, throws, and joint locks. When using Aikido properly, violent aggression can be neutralized swiftly and cleanly so that effective self-defense is possible without inflicting injury.
www.jcccaikikai.ca
Summer - August
| Day | Time | Age | Level |
| --- | --- | --- | --- |
| Monday, Wednesday, Friday | 7:00-8:00am | Yourth+ | General |
| Tuesday, Thursday | 7:00-9:00pm | **Note | General |
| Saturday | 11:30am-1:00pm | Yourth+ | General, Women only |
| Sunday | 10:00am-12:00pm | Yourth+ | General |
*Children may join on Tuesday class from 7-8pm since there will be no Sunday class in August until after Labour Day.
Regular schedule resumes in September, first business day after Labour Day.