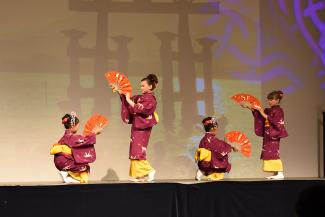 Ayame Kai's mandate is to promote awareness and respect of Japanese culture and to preserve a part of Japanese heritage through dance.
The group was founded by the late Barbara Nikaido and celebrated their 25th Anniversary in 2009. Today, they have a vibrant group of dancers ages 4 and up, with lessons held on Friday evenings. The family-oriented environment fosters a love of odori dancing and life-long friendships.
They have performed all over North America at various festivals and events, and continue to have opportunities to perform throughout the year.
For more information please contact Susan Nikaido at ayamekai.group@gmail.com.
JCCC Membership required