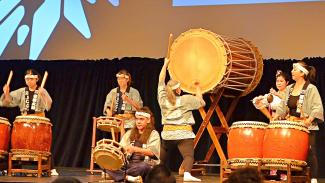 The registration was closed. 
For more information about our Taiko group, follow @kyowataiko.
Taiko-Japanese drum music has been a part of Japanese culture for centuries. Taiko is performed at festivals, celebrations, and other traditional events. Students will learn and progress from basic playing to show off their giving a demonstration at JCCC Natsu Matsuri (Summer Festival).
Minimum Age: 12 
Attire: Comfortable loose attire. You will be asked to take your shoes off in the classroom. 
Instructor: Akiko Date, Justin Plummer, and Yoshiko Shimizu  
For those who are interested in joining the next sessions, you can sign up for our notification list.
---