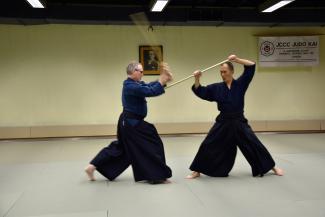 "The Way of the Staff". Jodo, a Japanese art of the staff, is designed to defend against someone with a sword. Its spirit
is not to injure the opponent but utilize techniques that demonstrate the true versatility of the weapon.
Practitioners will learn the use of the staff and sword in a noncompetitive environment using kata-based partner training. Jodo techniques include: striking, thrusting, blocking, parrying, pinning, and sweeping. Through Jodo, one learns dexterity of movement and the development of the mind, body, and spirit. The art is suitable for adults and youth.
Beginners need only wear loose clothing. A limited supply of jo (wooden staff) and bokuto (wooden sword) are available.
Please note that the Jodo Program does not offer trial classes.
To ensure participants' safety and learning experience, maximum twenty (20) registration per session.
Instructors:Kevin Hyatt, 5th Dan, David Lee, 5th Dan 
Assistant Instructor: Marianne Matchuk, 4th Dan
For more information about Jodo, please see the brochure below or contact the program instructors at jodo@jccc.on.ca. 
For registration and fees, please contact JCCC at jccc@jccc.on.ca.