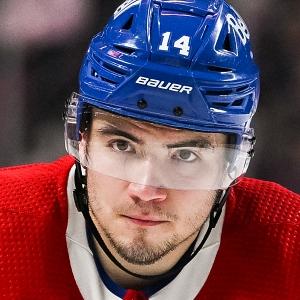 Nick Suzuki
2023 Sakura Award Recipient
Nick Suzuki was born in London, Ontario and is a gosei fifth-generation Japanese Canadian.
The speedy centre made the Ontario Hockey League First AllRookie team in 2015-16 after scorings 38 points for Owen Sound. The next season for Owen Sound, Suzuki had 96 points, made the OHL All-Star second team and won the William Hanley Trophy for sportsmanship. After spending time in the Golden Knights' training camp before the 2017-18 season, he returned to Owen Sound and scored 100 points. He also won the Hanley Trophy again. He capped his junior hockey career with a championship. He scored 94 points splitting the season between Owen Sound and Guelph and won a third straight Hanley Trophy. He set a Guelph record with 42 points in the 24 playoff games to win the Wayne Gretzky 99 Award as playoff MVP.
Nick was drafted by the Vegas Golden Knights in the first round of the 2017 NHL draft and was traded to the Montreal Canadiens in 2018. He was named the 31st captain of the Montreal Canadiens on Sept. 12, 2022, at 23-years-old to become the youngest in team history. The position is one of the most respected and coveted in hockey. Previous captains include Maurice "Rocket" Richard, Henri Richard, Jean Béliveau and Yvan Cournoyer. Nick posted an NHL career high 61 points (21 goals, 40 assists) in 82 games during the 2021-22 regular season.