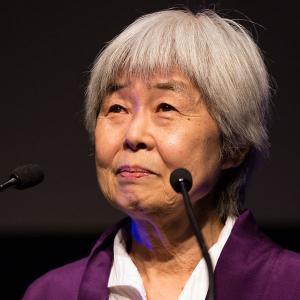 Joy Kogawa
2015 Sakura Award Honouree
Acclaimed Nikkei writer and poet Joy Kogawa was born in Vancouver in 1935 to Japanese-Canadian parents.

During WWII, Ms. Kogawa and her family were forced to move to Slocan, British Columbia, an injustice Kogawa addresses in her 1981 novel, Obasan.

Ms. Kogawa has worked to educate Canadians about the history of Japanese Canadians and she was active in the fight for official governmental redress. Ms. Kogawa studied at the University of Alberta and the University of Saskatchewan.

Her most recent poetic publication is A Garden of Anchors. Her work extends beyond literature: she is also a philanthropist, educator and cultural historian. Ms. Kogawa established The Historic Joy Kogawa House Society in her childhood Vancouver home, operating as a writers-in residence site with regular events and workshops. In 1986, Ms. Kogawa was made a Member of the Order of Canada; in 2006, she was made a Member of the Order of British Columbia. In 2010, the Japanese government honoured Ms. Kogawa with the Order of the Rising Sun "for her contribution to the understanding and preservation of Japanese Canadian history."