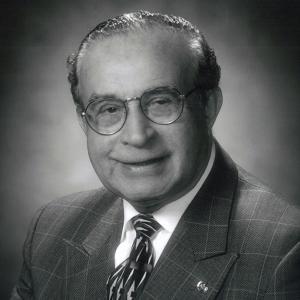 Henry Zagdanski, ז״ל
2014 Sakura Award Representative Honouree
Henry Zagdanski, ז״ל Representative Honouree Nu Mode Dress Company, owned by Henry Zagdanski, ז״ל and Fred Singer, employed many Japanese Canadians following the internment. At all levels, from the union shop to homeworkers, from designers to senior managers, many Japanese Canadians found a means of making a living without the fear of discrimination and racism at Nu Mode Dress Company.

In fact Roy Shin became a key manager under Henry Zagdanski, ז״ל at Nu Mode Dress Company and Roy Shin was also one of the founders of the Japanese Canadian Cultural Centre. To the Zagdanski family credit, many former Japanese Canadian employees who are still with us have fond recollections of working at Nu Mode Dress Company and speak highly of what an extraordinary man Henry Zagdanski, ז״ל was. Henry Zagdanski, ז״ל is representative of the extraordinary humanity and greatness of spirit shown to Japanese Canadians by the Jewish community in Toronto following the Japanese Canadian internment.
---
The Jewish Community of Toronto
Following the years of Japanese Canadian internment and forced relocation during World War II, the Jewish Community of Toronto provided Japanese Canadians with friendship and support during a dark period of Canadian history.

For Japanese Canadians - many of whom had been born in Canada, and knew of no other life - enduring the hardships of forced relocation, internment, ghost towns, and POW camps, and then facing deportation were forced by government decree to build a new life east of the Rockies with all of their property having been confiscated and sold by the federal government was an incredibly daunting and frightening challenge. Rising above the common prejudices of the day, many Japanese Canadians were given the chance to start their lives afresh with the assistance of Jewish Canadian business and property owners who offered employment and rental housing. This aspect of the narrative common to many Japanese Canadians who experienced postwar Canada has gone largely unacknowledged on a community scale. In fact, many Canadians in and outside of the Jewish Canadian population have little knowledge of this time period nor this historical gem of Canadian multicultural acceptance.

The JCCC understands that the garment industry was particularly open to Japanese Canadian employees - often to those who had been turned away from other possible avenues of employment.