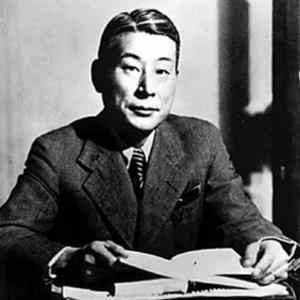 Chiune Sugihara
2014 Sakura Award Representative Honouree
Chiune Sugihara was a Japanese diplomat who served as Vice-Consul in Lithuania during World War II. He defied direct orders of the Japanese government and issued visas to Jewish refugees so they could travel to Japan and escape the Nazi onslaught that was engulfing Europe at the time.

In less than one month during the summer of 1940, he issued over 2,000 visas, resulting in his saving over 6,000 lives. The Japanese government closed the consulate, but he continued writing visas from the train platform where his train was to depart.

It is estimated that there are 80,000 Jewish living descendants that attribute their lineage to Sugihara's courageous deed of saving their relatives. In 1946, Sugihara was dismissed from the Japanese Foreign Service. He understood the reason for this dismissal was his issuing of the transit visas. He took odd jobs for several years following this.

In 1968, a survivor finally located Sugihara after many years of searching. 28 years after his good deed, Sugihara realized that the Jewish refugees he saved actually survived. In 1984, Sugihara was recognized by the State of Israel, receiving the Righteous Among the Nations award from the Yad Vashem, the only Asian recipient of this honour. In July 1986, Sugihara passed away in his home near Tokyo. Today he is considered a hero in Japan.

The Japanese Canadian Cultural Centre recognizes Chiune Sugihara for this courageous deed that saved so many lives. His actions showed incredible humanity, kindness and self-sacrifice. Visas for Life Foundation was founded in 1997 by Hiroki Sugihara, oldest son to perpetuate the legacy of his father, that of caring for humanity and the dignity of life.