Toronto Japanese Film Festival 2020
THE TORONTO JAPANESE FILM FESTIVAL MOVES ONLINE FOR 2020 
Films from the program will also be screened in Tokyo as part of TJFF in Hibiya!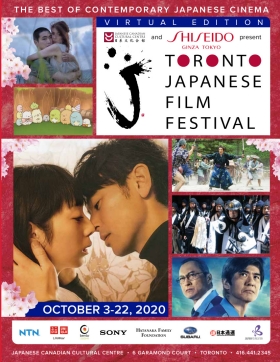 Japanese Canadian Cultural Centre's 9th annual Toronto Japanese Film Festival will be held online from October 3 to 22 and features 22 films using the SHIFT72 festival platform. Screenings will also take place live in Japan during the same period in Tokyo Hibiya Midtown Centre. The festival has now grown into one of the largest film events of its kind in the world and is recognized by the Japanese film industry as a vital conduit for bringing Japanese film to the world. 
Tickets for all Toronto Japanese Film Festival (TJFF) screenings are priced at CDN$9.99. Please enjoy the films at home with your family. Some films do address adult themes so please check age recommendations. 
Films are presented on a Video on Demand basis through our online platform partner SHIFT72. E-Tickets will go on sale on Monday, September 23 starting at 00:00AM (EDT) and continue through to the end of festival on October 22 at 11:59pm. The process is quite simple; just go to the Toronto Japanese Film Festival website at www.torontojff.com and follow the prompts.
You may find some of film line-up from here. More to be added soon.