We Are Canada: Celebrating Canada's Multiculturalism Day
Asian Canadians across different periods of history in Canada have experienced systemic marginalization. The story of loyalty, perseverance, and resilience found in the Japanese Canadians who enlisted in the Canadian Armed Forces despite experiencing acute discrimination is not uniquely Japanese Canadian but can be found in many ethnic minority groups in Canada.
On June 27, the Japanese Canadian Cultural Centre (JCCC) will be hosting a celebration for Canadian Multiculturalism Day alongside other Asian communities in Toronto to honour the connections between the cultural communities collectively. The program will revolve around raising awareness and honouring Asian Canadian Enlistment History. 'We are Canada' will bring different cultural communities together for an afternoon of programming that honours people and stories of Asian Canadians who have served Canada through their enlistment in the Canadian Armed Forces. This event celebrating the cultural diversity of Canada will work to inspire Canadians from different backgrounds highlighting that Canada's multicultural society makes Canada a better place for all Canadians.  
Program for 'We are Canada' will include a panel discussion, light refreshment, and performances. Admission is free and registration is required.
---
Panel: Unseen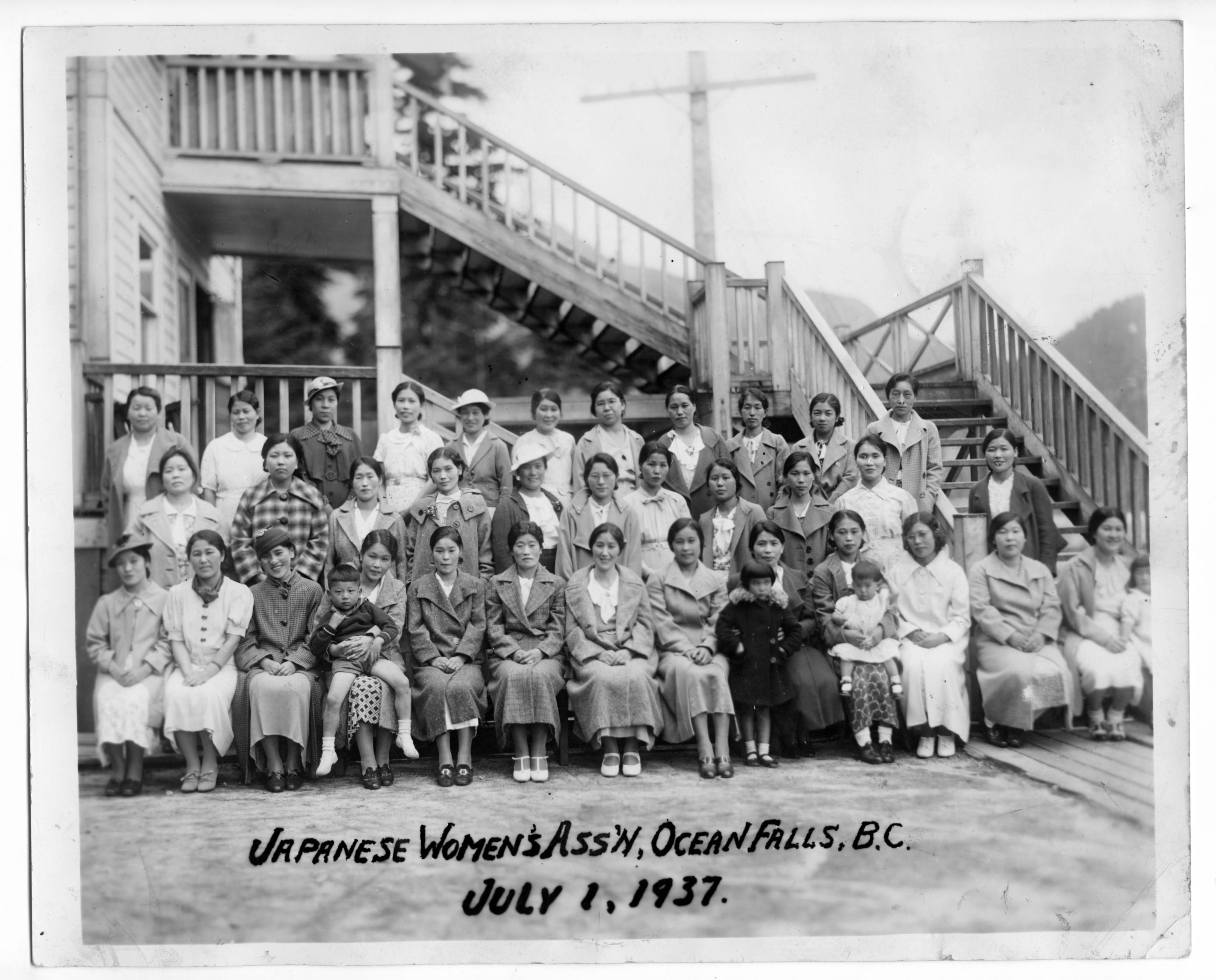 In the early twentieth century, Japanese Canadian women across British Columbia formed Japanese Women's Associations known as fujinkai. Their primary mission was to support new immigrants coming to Canada from Japan. During the First World War, the Associations worked alongside other women's associations and the Canadian Red Cross to organize their efforts by knitting pyjamas, socks, and bandages to be sent to the men who were fighting for Canada and the Allies. Their strong support for Canadian servicemen restarted during the Second World War. Nori Kanashiro, a second generation Japanese Canadian remembers his mother, Oto Kanashiro who was part of the Japanese Women's Association in Ocean Falls, BC, knitting socks daily at the start of the Second World War. In early 1942, 22,000 Japanese Canadians including Oto Kanashiro and her family in Ocean Falls were forcibly removed from their homes without charge or due process.
These stories of women and families' great efforts to support Canadian servicemen are often forgotten. Relative to this, servicemen from visible minorities volunteer their service to a country that often treats them and their family with a lack of gratitude and exclude them from national narratives. Stories of systematic oppression experienced by servicemen are often hidden – their silence stemmed from a deep need to show for gratitude towards Canada, fear of reprisal if they speak up, and a cultural emphasis on humility. This panel aims to explore the stories within the Canadian Armed Forces to bring to light issues that are often internalized to 1) raise awareness of these being a collective experience; 2) empower communities through conversation to understand, navigate and overcome them. 
Chair
Albert Wong, Citizenship Judge
Appointed Citizenship Judge for the Greater Toronto Area in June 2014, Albert Wong had over thirty-nine years of service in the Canadian Armed Forces, serving in various public affairs positions with the military across Canada, with the United Nations in Eritrea and Ethiopia, and in Afghanistan.
He has served on the boards of several volunteer organizations the Mississauga Board of Chinese Professionals and Businesses (CPB) and the Action, Chinese Canadians Together Foundation (ACCT).
Born in Kuala Lumpur, Malaysia, Judge Wong is a recipient of the Chinese Canadian Legend Award (2012), the NAAAP 100 award (2015), and the Transformation Award for Public Service (2015). He was named Diversity Magazine Person of the Year in 2016.
He served as the Chief Aide-de-Camp to the Lieutenant Governor of Ontario from 2013 to 2020 and was awarded the Vice-Regal commendation in 2014
Panelists:
Dr. Lisa M. Davidson, York University
Dr. Lisa M. Davidson is an Assistant Professor in the Department of Anthropology at York University.  Her research looks at migration, racialization, and multiculturalism within Canada, with a specific focus on the political and affective work involved in sustaining conviviality and a sense of solidarity among and between diverse groups of people. Central to her research is the question of tolerance. Given that Canada is celebrated as a tolerant nation, she asks, "what then, does it mean to be a tolerated group amidst the implicit, overt, and uneven challenges of invisibility and oppression?". Lisa is co-editor and contributing author of Filipinos in Canada: Disturbing Invisibility (2012, University of Toronto Press) and more recently, she has published on concerns over multiculturalism, diversity, and belonging within Canadian multiracial protestant churches. 
Ellin Bessner
Ellin Bessner is a Canadian journalist based in Toronto. She is the author of a book about Canada's 17,000 Jewish servicemen and women who fought in the Second World War. The book is called "Double Threat: Canadian Jews, the Military, and World War II", and was published by the University of Toronto Press (2019). She also contributed a chapter to "Northern Lights", published by the Lola Stein Institute (2020). It is the story of the contribution of Canada's Jewish community to the country's military record from 1750 to today. Ellin hosts the podcast The CJN Daily: it's a bite-sized look at news about Canada's Jewish community, for the Canadian Jewish News. 
Ellin was born in Montreal and graduated with a degree in journalism and political science from Carleton University. Her career as a journalist took her around Canada and around the world, working for CTV News and CBC News, and also stringing for the Globe and Mail, The Canadian Press and other organizations. As a foreign correspondent based in Rome, Italy, during the 1990s, aside from reporting on the Vatican, the Mafia, Italian food, fashion, and opera, and of course, on Italian soccer, Ellin also covered several brutal civil wars in Africa. She's interviewed the late Prince Phillip and the Dalai Lama. She was a business anchor for many years at Report on Business Television, now BNN. 
Commander Paul Hong, Commanding Officer, HMCS PREVOST
Born in South Korea, Paul Hong came to Canada with his family in the early 1980s. Paul grew up in Caledon Ontario. He received an Honors Business Administration (HBA) degree from the University of Western Ontario, a Bachelor of Laws (LLB) from Osgoode Hall, and a Master of War Studies (MA) from the Royal Military College of Canada. Paul was called to the Bar in Ontario.  
As a civilian, in 2008, Paul became an advisor to the Secretary to State for Multiculturalism. He subsequently became a senior advisor at foreign affairs, serving three foreign ministers between 2008-2014. Paul was Acting Chief of Staff to the Minister of Foreign Affairs during the Haiti Earthquake crisis. Paul was also part of the Canadian delegations to the Commonwealth Heads of Government Meeting, the UN, NATO and the G8/G20. In 2015 to serve as the Director of Policy to the Minister of National Defence. For the next couple years, Paul served as the Deputy Chief of Staff to the Leader of the Official Opposition at Queen's Park.   
For the past 23 years, Paul served as a Naval Warfare Officer. His past positions included honorary Aide-de-Camp to the Lieutenant Governor of Ontario, instructor and head of department at reserve units, senior instructor for the Coastal Operations Officer Course, Executive Officer (Kingston Class Ship and Naval Reserve Division), and ORCA class patrol vessel Officer-in-Charge. He was also deployed at sea for Operations CARIBBE (anti-drug trafficking operations in the Eastern Pacific - 2018) and PROJECTION (to West Africa in 2020), as a team leader for Operation LENTUS (Quebec Floods 2017), was a participant in a leadership seminar in France (2017), and served as the Liaison Officer for Naval Reserve's Central Region to Joint Task Force Central (2021). He has over 480 days at sea. He completed the Command Development Course (2019) and is presently enrolled in the Joint Command and Staff Program. Commander Hong took command of HMCS PREVOST in May 2022. He is a recipient of the Operational Services Medal, Special Services Medal, Canadian Forces Decoration, the Queens Diamond Jubilee Medal, the Canadian Forces Decoration, the Service Medal of the Most Venerable Order of St. John, and the Provincial Chairs commendation for St. John Ambulance.  
Arlene Chan
Arlene Chan is an award-winning author and Chinatown historian. She brings the history, culture, and traditions of the Chinese in Toronto and Canada to life in her speaking engagements and books, many shortlisted for the Ontario Speaker's Book Award, Heritage Toronto Book Award, Silver Birch Award, and Red Cedar Award.  
Arlene is the president of the Jean Lumb Foundation that awards high school students of Chinese heritage from across Canada. She serves as an advisor for Myseum of Toronto and Toronto Public Library's Chinese Canadian Archive. 
Nancy M. Siew, retired Citizenship Judge
After Nancy's early retirement from public service, she was appointed by the Governor-General in-Council in 2014 as a Citizenship Judge for a term of three years. A fourth-generation British subject in Hong Kong, she is proficient in both English and Chinese. She enjoys the "best of both worlds". She was educated in Canada, Hong Kong and Switzerland where she earned five post-secondary diplomas and degrees. 
A grateful immigrant, she devotes her retirement in giving back to Canada. She started Asian Heritage Month celebrations with Then Senator Vivienne Poy in The Greater Toronto Area (Twenty-one years ago). She chaired several Non-profit organizations such as Veterans Bridging Homes and Tribute to Early Chinese Immigrants Foundation. 
From 2018 – 21 she was conferred the title of Honorary Lieutenant-Colonel of the Canadian Forces Military Police Academy. 
Having been a volunteer for over thirty years, Nancy was conferred the Queen's Diamond Jubilee Medal and the Queen's Golden Jubilee medals by the Government of Canada and recently The Queen's Platinum Medallion by Senator Oh.
Kathy Grant
Born in Montreal to Barbadian immigrants, Kathy Grant is an educator, public historian and founder of Legacy Voices, ensuring Black Canadian military history, is documented, preserved and shared.  Since 2005, Kathy has made educational presentations to municipalities, provincial and federal governments, schools, and community organizations, and works to promote an inclusive approach to storytelling and historical documentation. Kathy led the launch of Veterans Affairs Canada's Black Canadians in Uniform A Proud Tradition.  In 2016, Kathy launched a 100th Anniversary of No.2 Construction Battalion traveling exhibit, displayed at Peel Art Gallery Museum and also at the War Museum. In 2021 Kathy cofounded the website www.blackcanadianveterans.com  and was lead historian on the award winning Black Liberators WWII documentary. In 2022  Kathy was History Co-Chair for No.2 Construction Battalion's National Apology Advisory Committee
Kathy is the recipient of both the Queen's Diamond Jubilee (2012) and Queen's Platinum Jubilee medals (2022).
Gary Kawaguchi, Past President Japanese Canadian Cultural Centre
Gary is an experienced corporate executive, entrepreneur and Not for Profit Director. Gary was a corporate officer for 26 years with, Pepsi-Cola Canada Ltd., Canadian Tire Corporation, Canada Trust, Dundee Bancorp, and Look Communications prior to founding an employee group benefits and pension advisory company in 2004 which he recently sold in 2020. Gary has also been a director on the boards of Canadian Cancer Society (3 yr), Summit Golf and Country Club (President), Nikkei National Museum and Cultural Centre (10 yr), JCCC Foundation (15 yr), and the Japanese Canadian Cultural Centre (30 yr, and President 2009-2022).   
Funded by the Government of Canada.
Financé par le gouvernement du Canada.