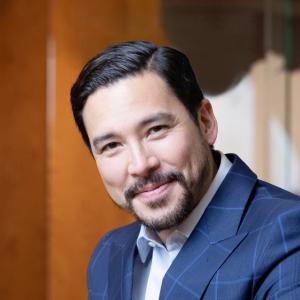 Chris Hope's earliest memories of the JCCC consist of watching his grandmother, Nancy Okura, rehearsing performances with the Hifumi Steppers in preparation for Caravan, multiple events involving soba, and cheering his uncle to tournament victory as he sparred as a member of the Centre's Shito Ryu Itosukai Karate Club.
An entertainment lawyer by trade, Chris is an MBA and a Chartered Corporate Director specialising in not-for-profit administration and governance.
For more than ten years, Chris has served with the JCCC Board of Directors in multiple capacities and prior to that, he was a member of the JCCC's heritage committee. He is currently the JCCC Capital Campaign Chair and a member of the JCCC Foundation Board. In 2011, Chris had the honour of co-founding the Toronto Japanese Film Festival at the JCCC with JCCC Executive Director and serious Japanese cinephile James Heron.
In 2012, Chris's documentary about his grandmother's experiences during the Japanese Canadian internment entitled Hatsumi was widely released in Canada, leading to many opportunities to speak to audiences in Canada, the U.S., and Japan about the Japanese Canadian internment. He produced the multiple award-winning music documentary The Wrecking Crew and continues to create content as a volunteer for the JCCC, from Sakura Gala biographic videos to, most recently, the Keep the Lantern Lit fundraiser video updates.
Since 2013 Chris has also served as a member of the Board of Governors of the Japanese American National Museum (JANM) in Los Angeles as the first and only non-American member of the JANM board to date.