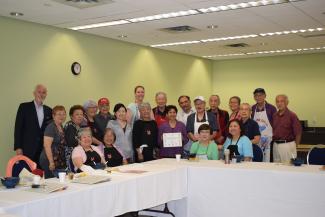 Active Seniors Cooking Workshop
This new JCCC class for Active Seniors focuses on cooking for one or two, using a main ingredient in several ways, using what is in your pantry and fridge, keeping food costs down, and food safety.
At each session, participants will have the opportunity to prepare several recipes using one main ingredient in different ways, enjoy the completed meal together, and discuss other options for each recipe. 
To start, the classes will be bi-monthly and limited to 16 participants. Participants are asked to bring an apron and head covering (kerchief, baseball cap) to each session.