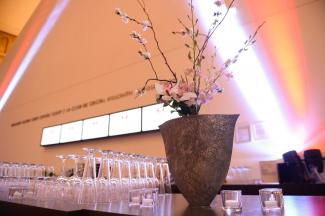 Flower Arrangement
Ikebana is the art of arranging flowers or plants to reflect their natural beauty. The JCCC offers classes by the Ikenobo School and the Sogetsu School.
---
Ikenobo
Ikenobo expresses both the beauty of flowers and the beauty of longing in your heart. Ikenobo considers a flower bud most beautiful. You will take home your creations.
Instructor
Betty Lou Arai - is a Professor of Ikebana - Ikenobo School, headquartered in Kyoto. She has studied in Japan and has been teaching since 1977. The styles of Ikenobo are always changing and Mrs. Arai teaches both modern and traditional styles.
---
Sogetsu
Sogetsu Ikebana Toronto East Branch
The Sogetsu School of Ikebana believes anyone can arrange Ikebana anywhere with multitude of materials. Sogetsu encourage students to be individual and imaginative. There are no limitation to the variety of materials used depending on various levels prescribed in the Sogetsu Text Book used worldwide.
Naomi Abe - Director, Sogetsu Ikebana Toronto East Branch
Instructor
Ruby Chan and Ayako Sugino.