TICKET INFO

Price:
CAD $9.99 for single ticket (tax and service fee included)
CAD $99.99 for an All Access Pass (tax and service fee included) SOLD OUT
ALL ACCESS PASSES ARE SOLD OUT BUT INDIVIDUAL SCREENING TICKETS REMAIN  PLENTIFUL!
Tickets sales period: Monday May 10 at 10am (EDT) – June 27 11:59pm (EDT)
Festival period: June 5 – 27, 2021
*Films are available in Canada only.
**Some films do address adult themes so please check age recommendations.
***Some films have regional restrictions and may not be available to viewers in Quebec or outside of Ontario. Please check film descriptions carefully before making your purchase.
---
HOW TO PURCHASE TICKETS AND PASSES

To purchase ALL ACCESS ONLINE FILM PASS or tickets to individual films, go to FILM LINE-UP on the JCCC's Toronto Japanese Film Festival page.
Select the ALL ACCESS ONLINE FILM PASS or the individual film of your choice, click "BUY PASS" or "BUY TICKET" and complete purchase.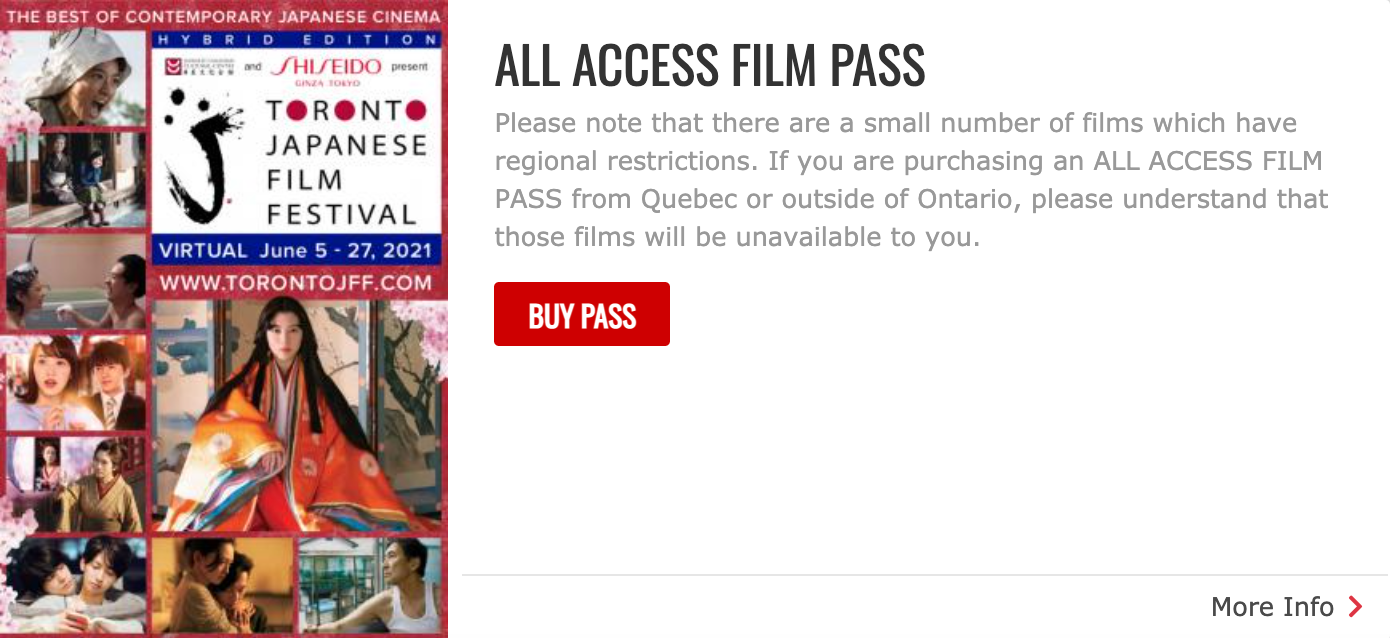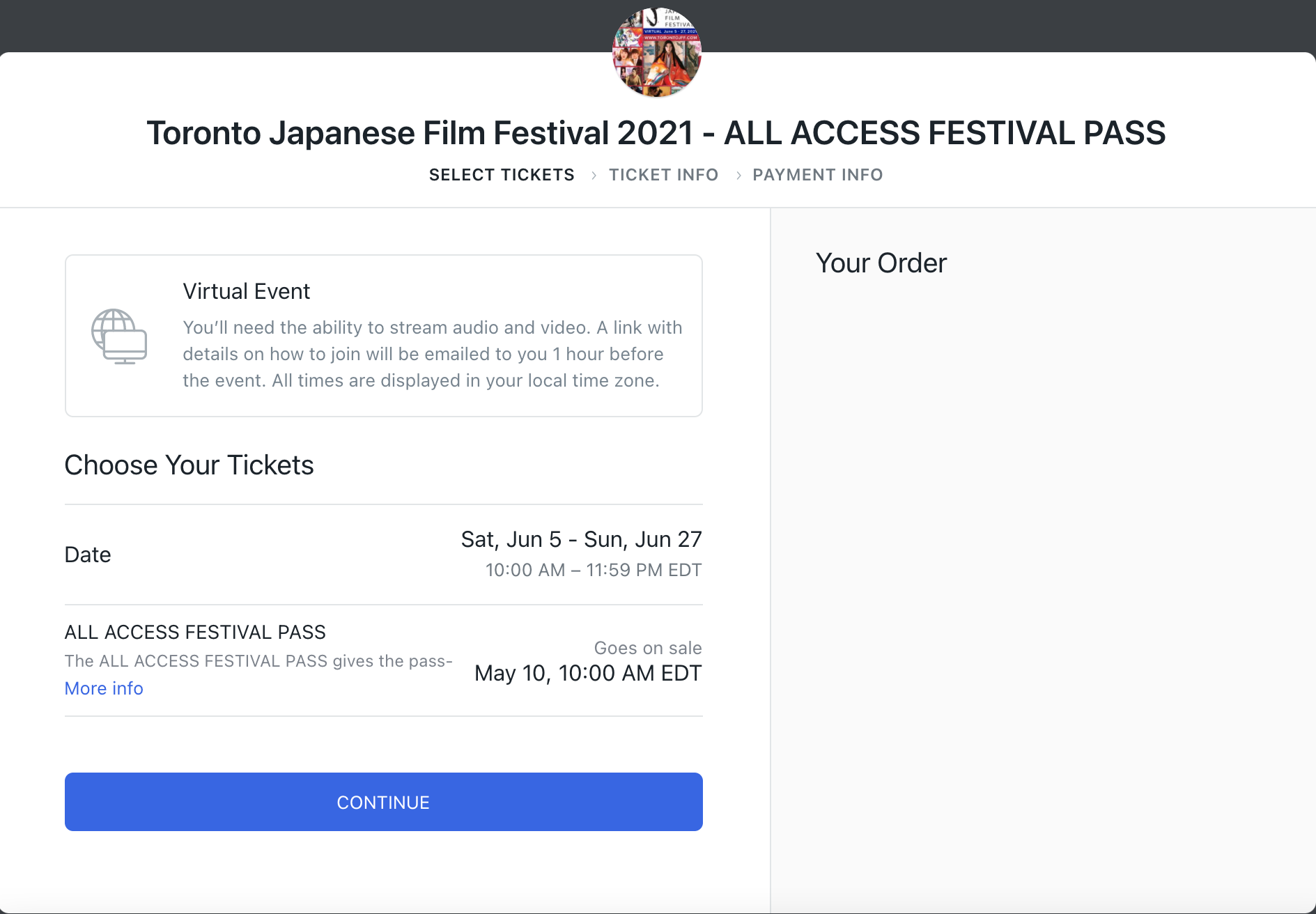 You will receive 2 emails.
An e-receipt to confirm your purchase from ticket platform UNIVERSE

A second e-mail from Toronto Japanese Film Festival (TJFF) with access instructions.

Purchasers of an individual film receive a personalized "WATCH FILM" link to access the film.

All Access Online Film Pass buyers receive an "ACTIVATE ACCOUNT" link in order to create your account and enjoy the full festival library at watch.jccc.on.ca
* Films can be viewed from June 5 from 10am (EDT)
** Check your junk mail if you do not receive this.
You will receive an additional reminder email prior to the start of the Toronto Japanese Film Festival. 
VIEWING FILMS

INDIVIDUAL FILMS
For individual film purchasers: watch film through "WATCH FILM" link provided in the email sent at time of purchase.
ALL ACCESS PASS HOLDERS
For pass holders, you will be prompted to create a log in account to access all films through watch.jccc.on.ca.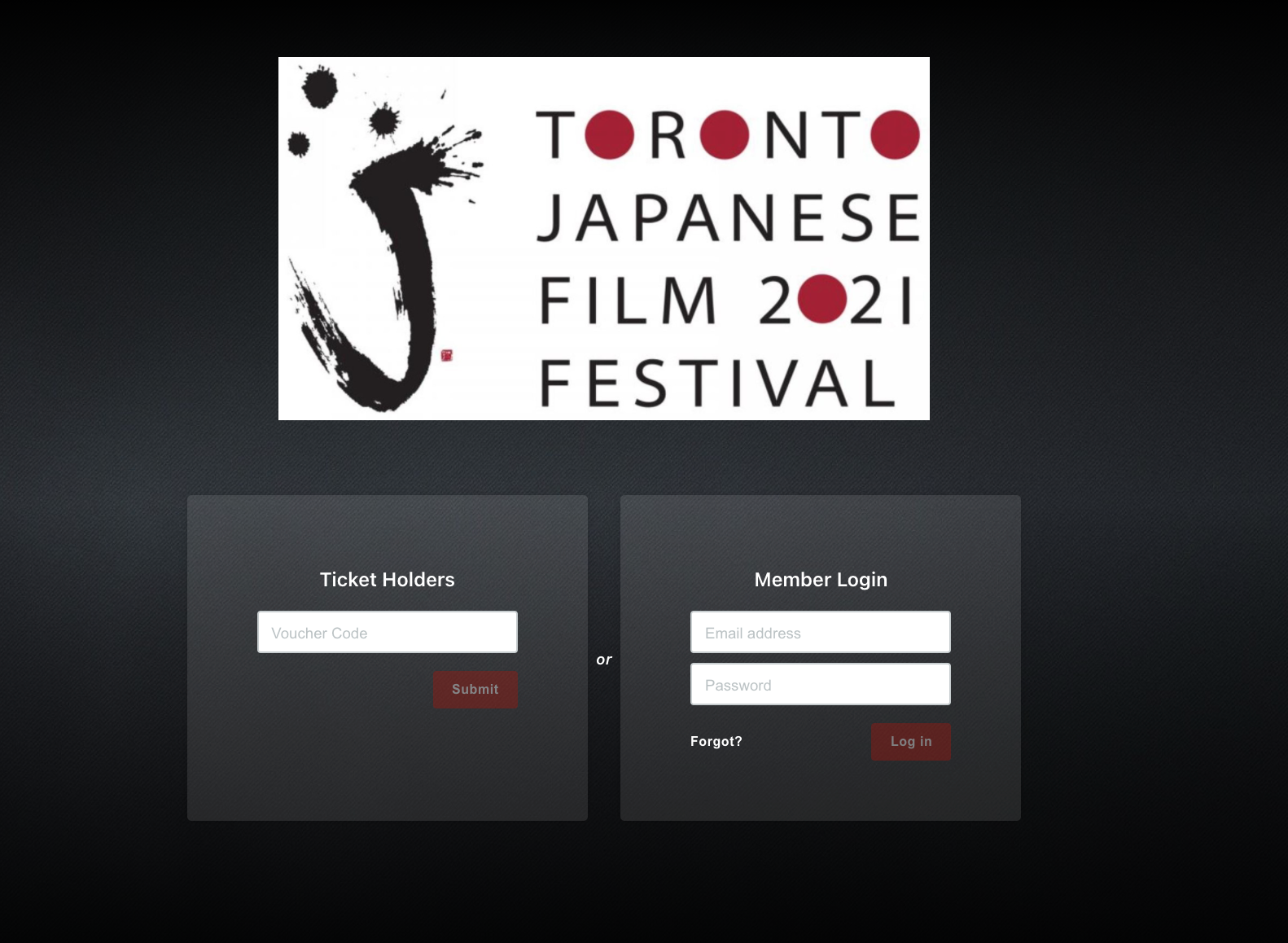 ***Once you have pushed "play", you will have 48 hours to watch the film before it expires.
***Line-up and availability of films subject to change.
 
The available streaming platforms are Google Chrome, Mozilla Firefox, Microsoft Edge, Opera, and Chromecast. Films can be enjoyed on the following devices: Microsoft PC Windows 7 or later, Apple Mac, Apple Tablet and iPhones Safari app on iOS 11.2 or later and Android tablets and phones on Android OS 6.0 or later. Screen mirroring is not supported.
Films can also be accessed using ROKU TV.