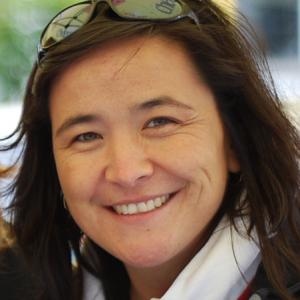 Vicky Sunohara
2023 Sakura Award Recipient
Vicky Sunohara is a three-time Japanese Canadian Olympic champion hockey player that ranks among the all-time leaders in career points at the World Championships and Olympic Winter Games. During her career she was frequently described as "the Wayne Gretzky of women's hockey". She is currently the head coach of the University of Toronto women's hockey team.
Sunohara made her Olympic debut at the Nagano Winter Olympics in 1998 on the introduction of women's ice hockey as part of the Olympic program. Team Canada took home silver at Nagano and Sunohara would return to the Olympic Games at both Salt Lake City in 2002 and Turin in 2006, where Team Canada took home back-to-back gold medals. Over three Olympic Games, Sunohara appeared in 16 games and recorded 13 points.
A member of the women's national team from 1989, where she served as assistant Captain until her retirement in 2008, Sunohara appeared in eight International Ice Hockey Federation World Championships playing 40 games and scoring 41 goals.
Sunohara was named Ontario's female athlete of the year for 2006 and is acknowledged by the Hockey Hall of Fame as one of the most notable women ice hockey players of all time. In 2009, Sunohara was selected by the Vancouver Olympic Organizing Committee to be Toronto's final torchbearer as Toronto welcomed the Vancouver-bound 2010 Olympic flame on its cross-country journey. She lit the cauldron before thousands of spectators at Nathan Phillips Square.
Sunohara was inducted to the Canadian Olympic Hall of Fame in 2012 with her teammates from the Turin 2006 Olympic hockey team.
In 2018, Sunohara was inducted into the Toronto Sport Hall of Honour and on September 11, 2019, she was appointed Honorary Lieutenant Colonel of The Queen's Own Rifles of Canada, a Primary Reserve regiment of the Canadian Armed Forces.
Vicky Sunohara is also well known for her affable manner and engaging personality, frequently described by the media, and by her colleagues, as "one of the nicest people in all of hockey."