We are excited to be participating in Nuit Blanche again for 2023!
Our theme, Land, Water, and Washi, will highlight the artwork of our 2 featured artists – Alexa Hatanaka in the JCCC Gallery with Unchanging and Changing and Changing, and Elysha Rei in the Heritage Hallway with The Strength in Sixty Sakura. Gather at the JCCC to experience Alexa Kumiko Hatanaka and Elysha Rei's artwork, which explores communal memories through the use of paper as a medium. Unchanging and changing and changing, a solo exhibition by Alexa Kumiko Hatanaka features sculptural and wearable paper pieces, often multi-faceted printed and dyed patchworks, sewn from handmade Japanese paper. Hand-cut in paper, The Strength in Sixty Sakura by Elysha Rei represents the resilience of Japanese Canadians, captured in the history of the JCCC.
In addition to the exhibitions, we will be featuring Mark Sakamoto's "Shizue's Path" Book Launch, Poetry Readings, Lantern Making Workshops, and more! 
The JCCC will be open for Nuit Blanche from 7pm to 7am alongside the rest of the city of Toronto and will activate for a night of celebrating connections.
---
NUIT BLANCHE LANTERN MAKING WORKSHOP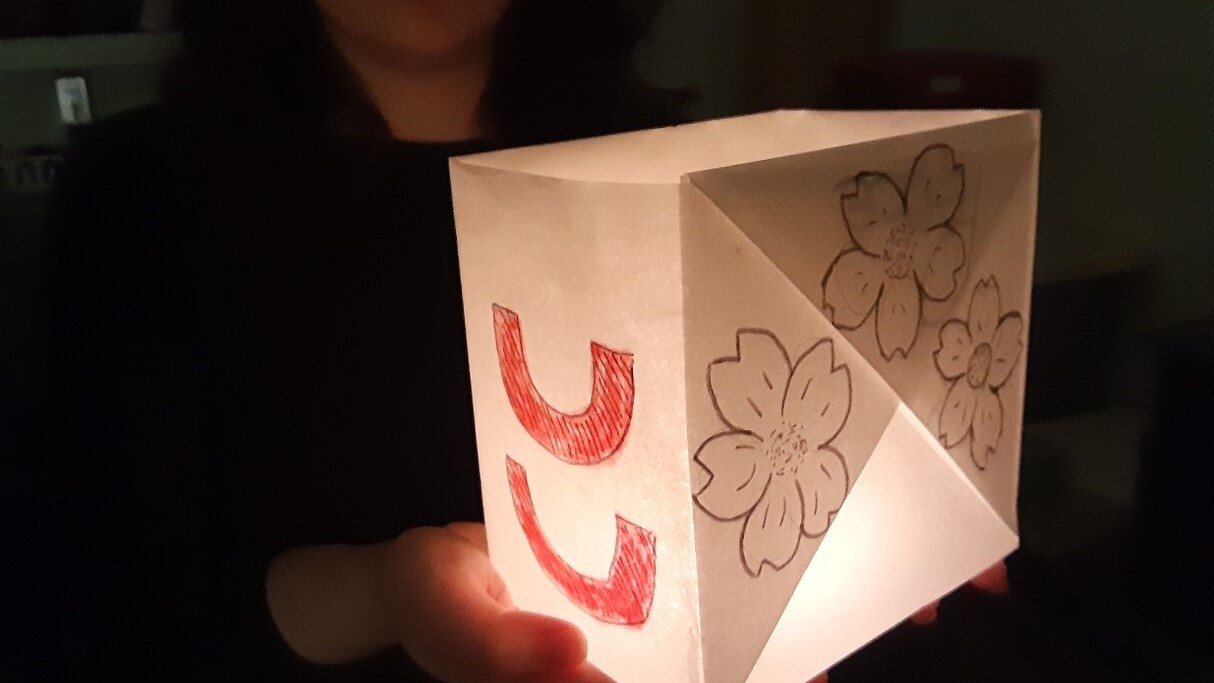 Experience a Candlelight Procession with lantern-making and poetry during Nuit Blanche!
Celebrate Land, Water, and Washi with a lantern-making workshop and poetry by candlelight.
Participants will be making their unique Japanese-style paper lanterns during this 45-minute workshop. All participants will have the opportunity to join us in a candlelit procession from the JCCC at 6 Sakura Way, across Wynford Drive, to the Aga Khan Park at the end of the workshop. Participants are encouraged to come early to enjoy our scheduled poetry readings. All instructions and materials will be supplied.
Pre-registration for Lantern Making is highly recommended. Limited spots will be available on-site.
Cost $10 +HST, each session is limited to 30 participants.
Registration is available through TicketWeb, or by contacting Reception at 416-441-2345 or jccc@jccc.on.ca
8:00pm:   SOLD OUT
---
MARK SAKAMOTO BOOK LAUNCH FEATURING SHIZUE'S PATH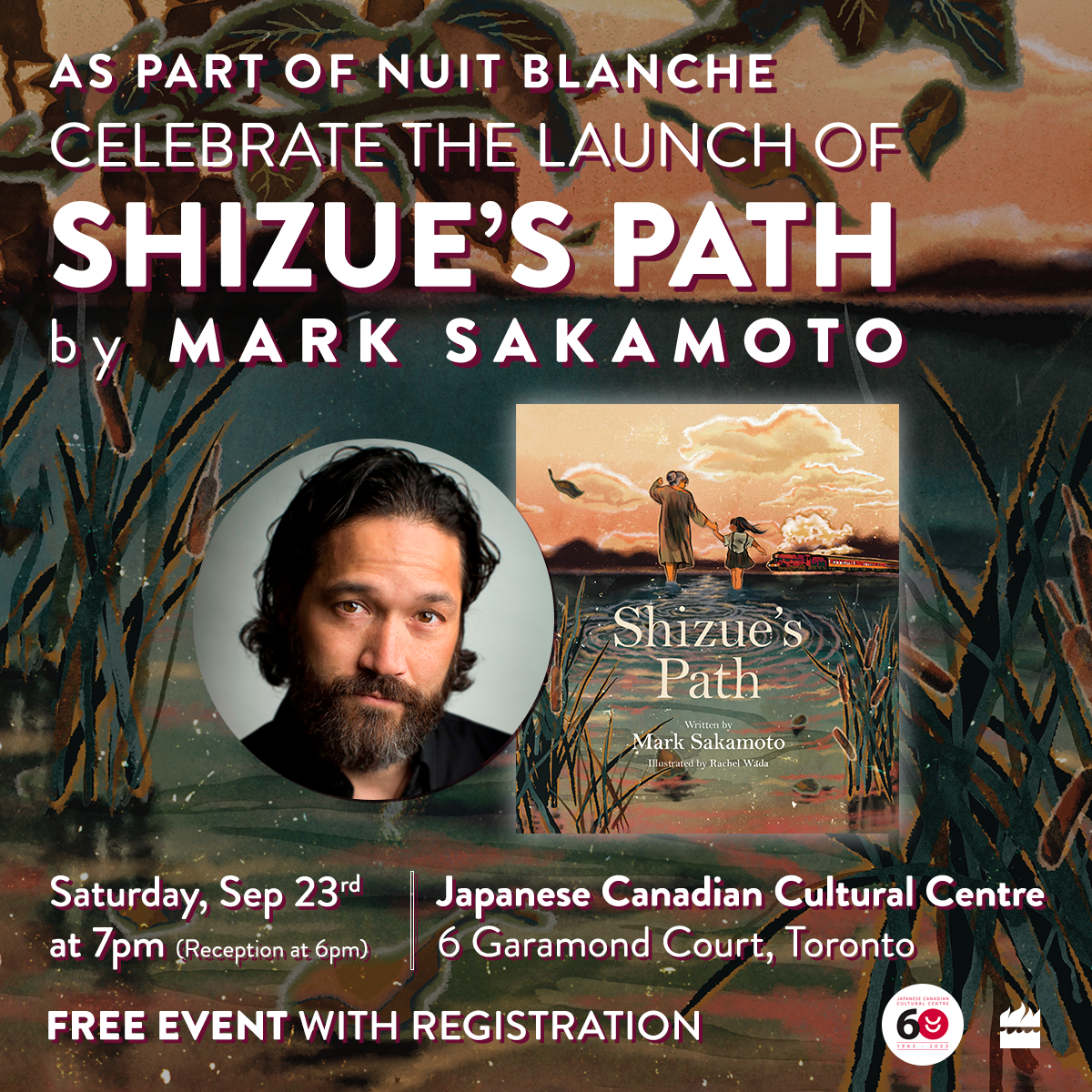 As part of Nuit Blanche, come celebrate the launch of Mark Sakamoto's new book, Shizue's Path. Start this year's Nuit Blanche with a book reading, Q&A with the author, and even get a book signed by him!
A war from far across the ocean washed up onto our new country's shore. I wish that I could skip this chapter of the story, darling. Just as you may want to skip parts of your own life story in time, but, you see, one mustn't do that. You need to know your darkness to know your light. And I can see so much light in you. So I'll keep going through the dark.
After the book launch, join us for our lantern-making workshops!
MARK SAKAMOTO is an entrepreneur and investor in digital health and digital media and is the executive vice-president of Think Research, a global digital-health company. His first book, Forgiveness: A Gift from My Grandparents, debuted as a #1 national bestseller and went on to win CBC Canada Reads in 2018. The book is being developed into a feature film and has been theatrically staged by Vancouver's Arts Club Theatre Company and Theatre Calgary. A frequent television presence, Mark was the host and executive producer of Good People, a documentary series that explored humanity's biggest problems and was co-produced by Vice Media and the CBC. He sits on the Giller Foundation's board of directors. Mark Sakamoto lives in Toronto and Prince Edward County with his wife and their two daughters.
---
EVENT SCHEDULE
 

TIME

ROOM

7:00pm

7:30pm

8:00pm 

8:30pm

9:00pm

9:30pm

10:00pm

10:30pm

11:00pm

11:30pm

12:00pm

7:00am

Shokokai Court 

Mark Sakamoto's "Shizue's Path" Book Launch
Lantern Workshop
8:45pm Walk to AGA KHAN
 
Lara Okihiro/Toronto Haiku Kai Reading
Lantern Workshop
10:45pm Walk to AGA KHAN
 
 
Security on Site

Heritage Hallway

60 Years of Friendship Through Culture & The Strength in 60 Sakura

Heritage Court 

 
 
 
 
 
 
 
 
 
 
 
 

Gallery 

Unchanging and Changing and Changing 

Heritage Lounge 

 
 
 
 
 
 
 
 
 
 
 
 

MNHC

Maru: Immigration Stories 

Registered Paid 
Public Events

Self Guided Events