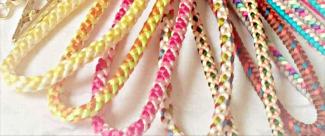 All workshops at the JCCC location have been suspended until further notice.
---
What do the Samurai and Geisha have in common?

Both required kumihimo to secure their clothing. Kumihimo loosely translates to "gathered threads." Through different techniques, a person is able to gather many threads together to create a stronger cord. It is a form of braiding…Japanese-style. The technique has been around for more than 1,400 years and was in danger of being a lost art due to the mechanization of the processes. However, this technique is enjoying a recent surge in popularity with crafters.
Instructors
Poncey Acromond