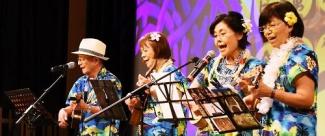 All classes at the JCCC location have been suspended until further notice.
---
Ukulele is a Hawaiian instrument that has gained much popularity in Japan and Canada. Students will learn to play and sing lots of Hawaiian as well as Japanese, American and European popular songs.
Instructor
Harry Kawabe
Experienced players interested in joining can contact instructor Harry at kawabeharry@gmail.com.