PRIVATE LESSONS IN CONVERSATIONAL JAPANESE!
Would you like to improve your conversational Japanese?
Would you like to expand your Japanese language skills with a private coach?
Would you like convenient "no commute required" online-virtual lessons?
1 ON 1 online Japanese Conversation might be an answer to your needs.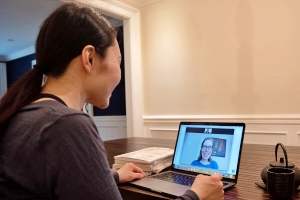 ---
ONLINE CONVERSATIONAL LESSONS FOR INTERMEDIATE-ADVANCED STUDENTS:

Geared to intermediate or advanced students, 1 ON 1 Online Japanese Conversation is the JCCC online program (via Zoom) that focuses on conversation based learnings. This will help you to develop your Japanese language skills in a direct one and one basis.
All of our instructors are native Japanese speakers who are experienced/certified with Japanese language teaching techniques, who are also fluent in English.
Lesson content and format are customizable on a student by student basis.
This program is for students 18 years of age or older. Hiragana reading skills are a requirement.
---
LESSONS AT YOUR CONVENIENCE:

Learn anytime to best suit your own convenience and preferred schedule. Lesson dates and times to be coordinated with your instructor in advance. Classes may be taken up to twice per week or once every 1-3 weeks according to students' desire. All lessons must be completed within a 2 month period from the purchased date.
LESSONS AVAILABLE FOR A VERY REASONABLE FEE
5 x 30 Minute Lesson Package - 5 x $14.00 = $70.00 + tax
(pricing in Canadian Dollars)
---
LEARN JAPANESE WHILE SUPPORTING THE JCCC

All funds from the 1 ON 1 Japanese Conversation program go directly to supporting the Japanese Canadian Cultural Centre. As a result of the Covid-19 pandemic, activities at the JCCC have been severely curtailed. Our instructors are all donating their time and expertise to support the JCCC until normal activities resume.
Learn Japanese!
Have Fun!
Support JCCC!
---
INFORMATION / REGISTRATION / RENEWAL

- Suitable for people who studied and mastered basic Japanese.
- Speaking is the main focus of this program but Hiragana reading skills are required.
- After completing the first package, JCCC membership is required for any renewals.